Our Kylee
By Traci Lillich
>> Read the update to this story here
Our story is unbelievable still to me, 23 months later. We tried to get pregnant for three years, finally I went to a reproductive endocrinologist after I found out my tubes were blocked. After three IVF tries, we were finally pregnant, with twins. Boy/girl–we had hit the jackpot. We were so excited, we went to multiple birthing classes, infant CPR/safety classes, we were so happy to be parents we wanted to do everything we needed to. I felt confident about carrying them, my aunts are twins, my grandmother was a twin, but I did have a hard time carrying them. I had gestational diabetes, was in a car accident at 30 weeks–a speeding pastor hit us and I went into labor but it was stopped, then I had high blood pressure spikes and lost my vision, but amazingly, I went to 37 weeks–they induced me since I lost my vision again.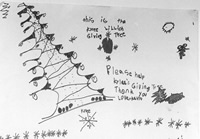 Kylee and Kevin were born 2 hours and 2 minutes apart on 2-12-98. Kylee was 6 lbs. 8 oz. and Kevin was 5 lbs. 4 oz. They were healthy and I felt I had just been given the greatest blessing in the whole world. We came home from the hospital on Valentine's Day. Life was crazy–my mom came from California to stay with me for three weeks, my husband John had to start traveling for his job (we live in Cincinnati, Ohio) and after long deliberation, it was apparent I needed some help. My whole family lives in California. I found a 40 year-old grandma nanny with foster care, twin, nanny experience. She was a godsend to us. I went back to work after 4 months. Pam, the nanny, brought Kylee and Kevin to meet me for lunch, she took them to the park, she came to their doctor appointments with me, she told me when I needed to do what, she was just like their grandmother and K&K loved her. They never cried once when I went to work in the mornings.
So, I worked four short days a week. I tried to go down to three days when I saw signs from Kylee she was needing me more, but Pam's husband had to have part of his foot amputated and we were their only source of income so I put it off for a few more months. Pam and her husband loved K&K like they were their own. They read them books all the time. That was one of Ky's favorite things to do, sit in your lap and have you read to her. She liked Barbies, puzzles, kitties, animals of all kinds. She was the greatest eater and she talked so well, saying MaMa at 8 months! She was sugar and spice rolled into one. Kylee and Kevin were the funniest, adorable children, very well behaved. They got noticed every where we went, they got their feelings hurt when they said Hi to people in the grocery store and people didn't respond back to them. Kylee was the leader at home, Kevin the leader in public, he's a ham. He adored her. He got up every morning and had to give Kylee her sippy cup. They traded food off each other's plates. He climbed out of his crib and into hers at 15 months. They talked in twin talk. Kevin's first sentence was, "I want some more too please Mommy!". Kylee asked for everything for both of them. They were the gift of my lifetime. They were beautiful.
We took them so many places and experienced so many things with them. I can say we truly lived. Kylee and Kevin went to California four times to see my family, to Michigan to see John's parents, to Chicago and Philadelphia to see friends, to Mexico for a family vacation, camping with my family, a lot in 23 months. My friends told me I was overprotective of them (I kept them on a schedule, I spent every minute I wasn't at work with them, I read every book on safety and followed all the "rules"). We laughed every day. We played on the floor and had so much fun. I figured I had worked so hard at trying to have them this was my only chance and I needed to make sure I was the best parent possible. I even tried to start a little Pampered Chef business so I could quit my job to stay home with them–it didn't work out for me–not my forte…but they were doing so well and I was so proud of them and life was hectic but it was all ok in my heart.
On January 19, 2000, I came home from work to take Kevin up the street to my dentist. The night before he was twirling around the living room and my husband was sitting on the floor and he fell into the coffee table right next to him–blood starting coming out of his mouth. So, I wanted to have his teeth checked since his gum was bruised. That was the worst thing that had ever happened to either of them. Kylee was hysterical when she saw the blood, it took longer to calm her down than Kevin. She was angry with me that she couldn't go to the dentist with us. But I came home (he was fine) and I read her some books (her favorite thing to do) and then I told Pam I didn't want to go back to work, but she said, "I am going to take them to Arby's" (Kylee's favorite was a roast beef sandwich) "and then go get some crafts for my Sunday School class and then come home and put them down for their nap", she said, "you won't miss anything." I went back to work around 11 a.m. I called my mom in California to tell her about Kevin and she freaked out, was hysterical and I thought, Mom, it's ok, he's ok. And right after, my husband called me at 12:50 or so and said a policeman just called him, Kylee wasn't breathing and they were aircaring her to the hospital, he told me to come now. I couldn't understand. I called home and demanded to talk to Pam, since I didn't know if they were in a car accident or where Kevin was. Pam was hysterical but she told me she was alive. I called my mom on the way to the hospital to tell her about Kylee and just so I could talk to someone so I could get myself there somehow. Kevin was sent across the street to the neighbor (who worked at Children's Hospital).
What happened was that Pam came home with them. They didn't fall asleep like normal in the car on the way home from lunch. So she let me them play with Legos right outside the bathroom door while she went to the bathroom. Kylee got up and went into the playroom (the next room over) and we had a table and three chairs in there so we had someplace to sit while we were in there with them–they were never left alone except for the few minutes it did take you to go to the bathroom–a table and chair you would find in a small office–the kind of chairs you find in doctors' waiting rooms sometimes, with a wooden arm rest and a wooden part of the bottom. The chairs were pushed underneath the table (which they usually weren't) and she somehow got her head and neck underneath the underside of the table and in between the armrest. Her feet slipped out from underneath her and she caught her carotid artery on the armrest, she couldn't cry or scream. They told me she passed out in a matter of seconds and died in as quick as one minute since she had no blood supply to her brain. Pam only had 10-15 seconds to find her to keep her alive (that is what the fire captain told me later and forensic pathologist confirmed–that once they compress the artery in the neck, even CPR doesn't usually bring them back.) Pam came out of the bathroom and Kevie said, "Kylee bye byeÈ. She saw her after frantically searching and saw her lips were blue and started CPR, the paramedics came, she was aircared, we got to the hospital and they told us that they couldn't do any more for her but they were still doing CPR. I told her mommy and daddy were here, please come back, we loved her, but she was cold. I knew she had died. She was declared dead at 1:40 p.m. in the afternoon. My world crashed that day. We were able to stay and hold her for several hours at the hospital but I don't remember much of that. I know I sang her songs like I did every night before they went to bed. I sang her "Silent Night" and "Twinkle Twinkle" and "You are My Sunshine". The hardest thing I have ever done in my entire life was leave her at that hospital. Life has been horrific ever since. She was 23 months old, she died three weeks before their second birthday.
I don't really remember the funeral. My family all came from California, they arrived the next morning, January 20. I am still horrified that they had to do an autopsy, they found nothing but they still carved her body up to pieces and that makes me sick, like they killed her all over again. They lost her clothes and her little pony tail holders I never got them back. When we left the cemetery, Kevin screamed at the top of his lungs, "I WANT KYLEE" and moaned the whole way home. It was unbearable and after that I pretty much checked out of life for several weeks. We had people stay with us to help with him. John and I started counseling together. We went to Compassionate Friends.
Kevin didn't sleep through the night for 6 months after she died. He would wake up whimpering, crying, screaming, "I want my Kylee". I would tell him his Kylee loves him and we are glad he is with us and everything is going to be OK that we were not going to go to heaven to be with Kylee we were going to stay with him. He still is taking it hard but says he wants two babies. Most of his friends are twins. He knows and can say that Kylee got stuck on the chair, the ambulance/firemen came to help her, she went to the hospital, her body stopped working, she died, and she lives in heaven with Jesus. He asks, "Why do some sisters have to die?" "How did Kylee get to the church?" "When did Kylee go to heaven?" We answer him the best we can. We explain to him that when we are sad and missing Kylee, we cry to let the sadness out of our hearts.
Kevin, now 23 months later (Kylee will have been dead now the same amount of time as she lived this Christmas Day 2001 at 2 p.m.) is what has kept us going. He is a wonderful outgoing little boy. He is all boy, with no fear, loves to ride his training wheels bike. He says he wants to be a shepherd, a fireman, a policeman and GI Joe man when he grows up. He likes to go to Fernside, the Children's Grieving Center here in Cincinnati, OH, he calls it the pizza church!
I have heard from other mothers that having more children helps. We all know it will never replace the baby/child we lost but it gives us hope for the future. We have tried in-vitro four more times in the last 23 months with no luck. I am 36. I am doing better than I was a few months ago, but I still have some very hard days. I just do one day at a time. I am having a hard time remembering things about her, I still feel guilty, like if I would have made a different decision that day, maybe she wouldn't have died. But, I know it was a freak accident, it is impossible to understand or comprehend. The paramedics couldn't believe how childproofed our house was and everyone told us we were the best parents and how wonderful Pam was with them. It has ruined her life and her family's as well. It has been so hard for me going from the "MOM of those beautiful twins" to "the lady whose little girl died"…
Several things have come as a result of her life and memory. The Cincinnati Zoo gave us a bench for Kylee that sits near the Elephant House. Last year my sister Tara Keegan and her former school, Woodland, California–Lee Jr. High–named their Christmas Giving Tree THE KYLEE L. GIVING TREE and 425 very needy children from 0 to 18 years old received a new article of clothing and a new toy for Christmas. It warms my heart to know that Kylee's spirit and love belong in those gifts and that those children will be delighted to receive them. It also is a great gift that so many people are so generous to sponsor all of those children. The tradition of Kylee's giving tree continues this year. With some of Kylee's memorial fund money, we have given funding to our church, Epiphany United Methodist Church, to support the church ladies' program and are funding some children's books that Kylee loved for the new preschool program to start there. We also hope to start a program at church and in Sacramento to help with outreach for grieving families.
Last year we received many angel ornaments from friends and family and every year we will treasure them and remember her and hang up her beautiful ornaments. We are traveling down a long road that takes so much time to heal. Kevin is doing better, he misses Kylee so much, but includes her all the time. Recently someone gave him a balloon (one of Kylee's favorite things) and he said, "Mommy, this is for Kylee, OK!" He is constant delight and we thank God for him and for the time we had with Kylee and for the double blessing we had the two of them for 23 months.
I did have some type of premonition that she would die. A female voice came into my head two times the last week of her life and said, "She won't be here much longer". It was the strangest thing, but of course I dismissed it. I have gone to Reiki therapy several times and that has helped me tremendously. I miss her more than life itself. I still struggle with the WHY? But I know there are no answers for me in this lifetime that I will understand. It has been almost two years now. We are moving to Sacramento to be near my family next month. My cousin wrote to me: "Come home, dream your dreams under a different sky. Grow together tall and strong and maybe then, I believe, Kylee will bring your dreams to you." We are taking Kylee's casket and permanently burying her out there near us. We have come a long way on our grief road. I pray she will always be with John, Kevin, and me until we can see her again in heaven.
Wishing you all peace and comfort this holiday season, love,
Traci & John Lillich
Kylee's Parents